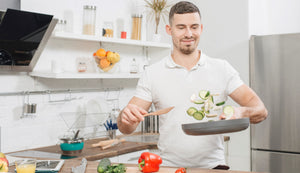 Welcome To Kitchinventions
About
KitchInventions is a company dedicated to creating and bringing to market innovative kitchen products to make your life easier while cooking! Read More
Sold and Featured On
Perfect Addition to your skillet
Pan Buddy™
The Pan Buddy™ comes in two pieces, a vertical handle, and wrist support. The vertical handle is screwed into the wrist support until it becomes tight with the existing pan's handle. The Pan Buddy™ adds leverage and support by keeping your wrist in a natural position. It is made of a material that you would typically find over-molded to a pan. It fits most pan handles and is ideal for cast iron! BPA-free and easy to wash by hand.
SHOP NOW
3-in-1 spoon rest w/ suction cup
Spoon Buddy™
Keeps Countertops and Stovetops Clean Keeps Utensil off of Germ Filled Surfaces Sticks to Any Flat Surface (2" Suction Cup) Promotes Organization Fits Most Utensils Non porous, does not harbor bacteria Dishwasher Safe (Top Rack Only) Heat Resistant to 250° F. FDA Compliant Material BPA Free
SHOP NOW
4-in-1 Herb Stripping Scissors
Strip-n-Snip™
The Strip-n-Snip­ scissors are a 4-in-1 tool that is a must-have for your kitchen! Save money and reduce clutter by having so many uses packed into one product! Easily strip a variety of herbs from kale, collard greens, oregano, parsley, and thyme. Open a bottle and even crack nuts all with these scissors!
SHOP NOW
Reviews
This is an absolutely great product to have in your kitchen. Not only is it a spoon rest, but it's also an opener for jars, suction for a plate to use as a cover. I was not sure if it really worked as stated, believe me it does!

Millie Z. (Amazon)
Used for my lodge skillet. Really helps make it easier to lift!

Jessie C. (Amazon)
This item is a wonderful, multipupose item that I use everyday when cooking or preparing food. Would definitely recommend this product.

Roberta T. (The Grommet)